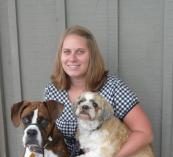 Veterinary Technician, RVT
Education: Northern College
Ever since I was public school, I wanted to work with animals. In April 2002 my dreams came true. I graduated from the Veterinary Technician program at Northern College in Haileybury, ON. I completed the registry exam at the University of Guelph and on June 30th 2002 I received the good news that I had passed the exam and was now a Registered Veterinary Technician.
I am also a member of the Ontario Association of Veterinary Technicians. Through this program I am able to keep up with continuous changes to veterinary medicine and participate in continuing education programs.
My favorite part of working with animals is seeing how they are so strong and resilient. It still amazes me their ability to overcome obstacles. Being able to take part in helping them overcome these obstacles and prolonging their life makes every effort worth it!
I have enjoyed growing up in the small town of Stayner and I am happy to be working in a community so close to home. My husband Darryl and I enjoy being parents to our son Carson and daughter Payton. We love going camping, out for walks and visiting with family and friends. We have two dogs at home – a Shih Tzu named Oakley and a male brindle Boxer named Diesel.