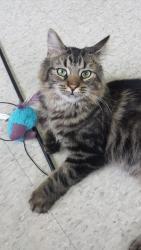 If you've been to clinic at any point in the past year, you've probably met me. I'm the handsome feline who may have been perched on my tree, hanging out on top of the cat food shelf or even greeted you at the door or on the counter at the clinic.
River Road Animal Hospital is my Kingdom. I live here all the time, and I'm the boss. Dr. Kelly and the staff adopted me from Furry Friends Animal Shelter after they fell in love with me when I was in-clinic being neutered. I've been told that Dr. Kelly resisted all cats until she met me — I can understand why, of course! — but when she saw me she immediately thought I should be *THE* clinic cat. I concurred!
My name is a play on words – I am Eddie Vet-ter! Dr. Kelly is a fan of Eddie Vedder, and Stacey thought it would suit me.
I allow everyone to lavish love upon me. I get along with all the clients at the clinic: human, dog or cat! Next time you see me, feel free to give me a treat!